Photo Booths are considered to be a mainstay for events, but what makes the experience so much fun? Why do people keep coming back with different props and posing for a picture? Along with an awesome DJ, why has the fun of a photo booth become such an important backbone at weddings, bar/bat mitzvahs or even company parties?
Lotsa Laffs Photo Booths provides a chance for guests to live out their fantasies! Their fantasy might be sailing the seas as a pirate or searching for new land as a Viking…and we can continue with the imaginings! The main thing to remember is that you have a chance to be someone or something else for fun. That's right! It is fun and exciting standing in front of the camera, grabbing a prop, mugging for the picture and quickly repeating the process until your session is through. Once that photo strip is in your hand, you have a piece of memorabilia to look at for years to come. This is a fun token to remember a wedding, birthday or graduation for years to come.
The photo strip border design that you receive with your prints usually contains information about the event, and many times the border design highlights the event. Lotsa Laffs Photo Booths has many different border designs to choose from when selecting a border for your event. So, if you are looking for sun, the sea with beach chairs, a luau or a pirate map for a photo strip border, Lotsa Laffs can definitely accommodate your theme. If you have a company logo with specific graphics, we can certainly place those on the border. In weeks, months and years to come, the displayed photo border will also advertise your company, party or event. Remember that we design our photo strip borders completely from scratch, so ANYTHING is possible!
Photo booths do not detract guests away from the party. Instead, they offer a brief reprieve from the dancing and merriment. At the booth, people mingle, laugh and even get pulled into other photo shoots. It is a time to get to know someone but in a fun and laughable way! Contact Lotsa Laffs Photo Booths today to begin creating your own fun experience!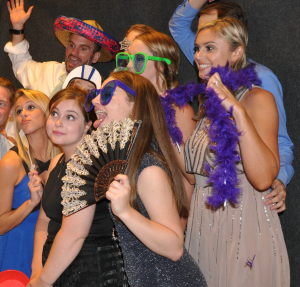 We can't believe the BLAST that we are all having!!!
All photos in this blog post by Lotsa Laffs Photo Booths. Copyright © 2017. All rights reserved.