Lotsa Laffs Photo Booths had the pleasure of providing photo fun for One Blue Village's Blue White Scholarship Breakfast held at the Penn Stater Hotel and Conference Center's Dean's Hall prior to the annual Penn State Blue White football game.  One Blue Village is a non-profit youth organization that helps individuals and families with programs and services in the Central New Jersey area that do not fit into the demographics of the region.  They have currently adopted areas within Pennsylvania to help nourish and empower students. 
The non-profit organization's founders are Carmen and Lee Rubin. The energetic couple adopted the Williamsport area and began helping and encouraging young teens to become empowered and further their education. They help the teens find jobs, scholarships, and continue to learn and grow. In the future, the couple are looking to begin working with teens in the State College area.
One Blue Village chose a 2×6, 3-picture, blue with lime green highlights photo booth template for their event. Guests were eager to step behind Lotsa Laffs Photo Booths Baby Blue camera to take some fun photos. No matter the size of the group, everyone was having a marvelous time posing with and without props. Lotsa Laffs Photo Booths had an engaging selection of hats, glasses, signs, lips, mustaches, and boas to create some interesting photos.
The Penn Stater provided a luscious breakfast buffet for all One Blue Village guests. And We Danced DJ Entertainment delivered an entertaining selection of musical entertainment. Jonathan Hsieh of Motion Lighthouse photography captured entertaining moments throughout the breakfast. Nittany Balloon crafted stunning balloon columns and a beautiful organic wave was featured in the fun photos taken with Lotsa Laffs Photo Booths.
Thank you, One Blue Village for allowing Lotsa Laffs Photo Booths to be part of your amazing Blue White Scholarship Breakfast!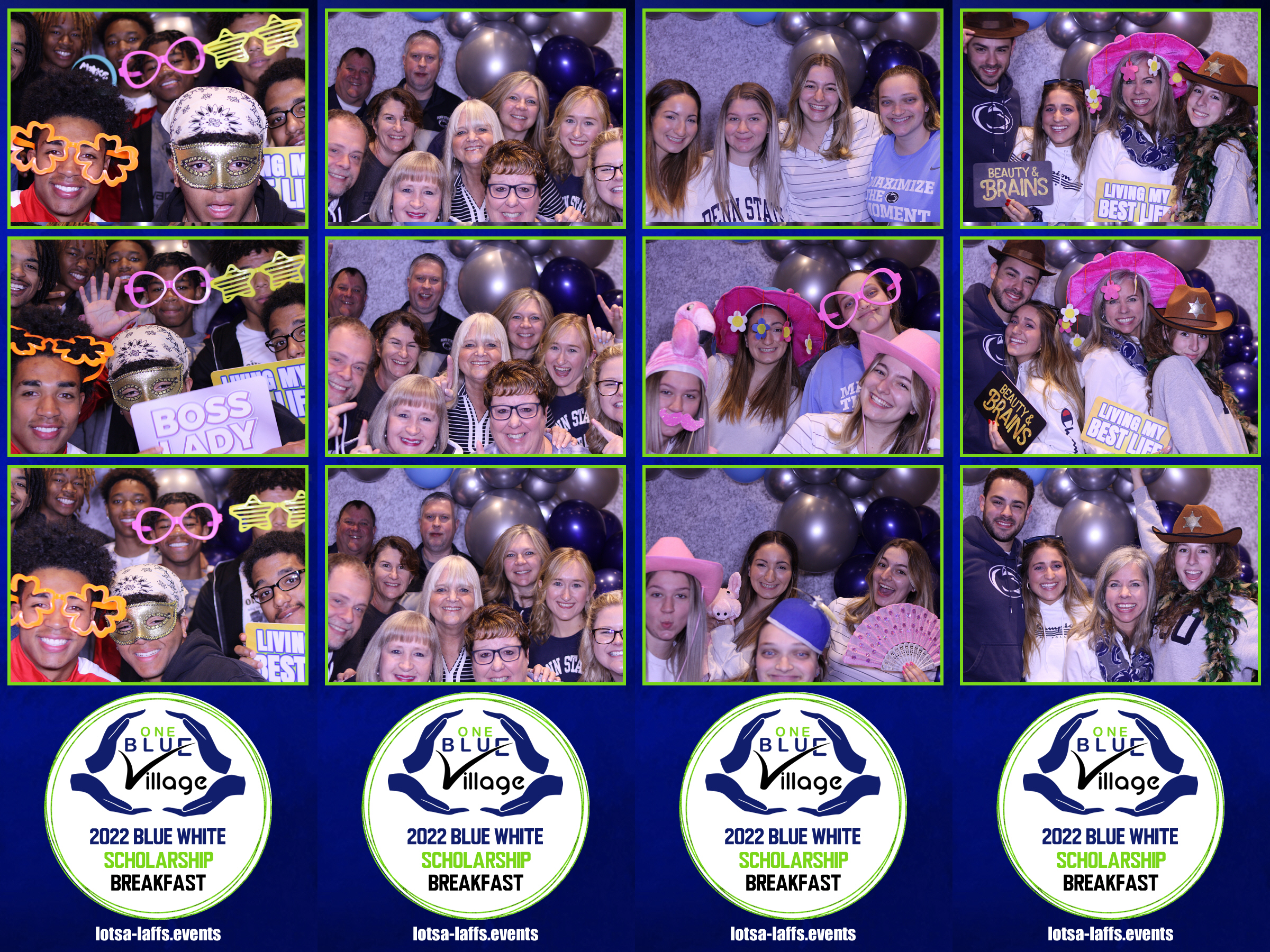 All photos and content in this blog post by Lotsa Laffs Photo Booths. Copyright © 2022. All rights reserved.