Your wedding is three weeks away. Last minute details with the caterer, baker and DJ are now complete, and you are ready to soon have your big day. You thought that you were all set with your vendors, but your friend has said you should really get a photo booth. But isn't that why you got a photographer? No, a photographer takes all the formal pictures at your wedding and reception. A photo booth allows you to get informal fun shots! Later, you can look back at the pictures, laugh, giggle and reminisce about the day.
Lotsa Laffs Photo Booths is able to maximize your fun!!! Even with a short lead time, Lotsa Laffs Photo Booths will provide an amazing experience for your wedding or special event. Under tight time constraints, we are able to design the highest quality border artwork for your event. Custom designs are always an option if our library doesn't have the border that matches your event. Remember, we have the largest border library around, and we do not use outside vendors to create our borders. Our graphic design capabilities allow us to create all of our borders from scratch. Contact us about our vast border library and graphic design possibilities. Simply put, our borders and huge selection cannot be found anywhere else!
Our BIG camera design is aesthetically pleasing and will only enhance the surroundings of your event. Unlike those boxy metal photo booths that have no character, the Lotsa Laffs photo booth is visually appealing to the eye. Is your event hall concerned about the amount of space your vendors are taking up for the event? Our booth can adapt its size to the environment of your venue. Our props are ergonomically situated so that you will never have to reach on the ground for props.
So, if you get that last minute urge or nudge to do the right thing and get a photo booth for your event, please give us a call, text or email and let's make weddings and special events fun again!!!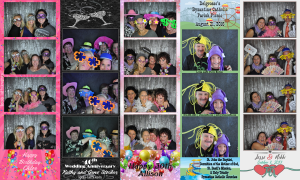 Amazing Border Designs!!!
All photos in this blog post by Lotsa Laffs Photo Booths. Copyright © 2018. All rights reserved.