June 13th was the last day of school for the State College Area school district. As kids were leaving their school buildings, a phrase was being chanted by the kids and teens from an Alice Cooper song, "School's out for Summer!" At Gray's Woods Elementary, kids were saying goodbye to their teachers and heading to State College's Dairy Queen for a few hours of fun, photos and ice cream. Lotsa Laffs Photo Booths had their BIG camera ready for kids to say, "Hello Summer!"
State College's Dairy Queen had Lotsa Laffs Photo Booths, Home Depot, games and coloring fun on hand for the Gray's Woods Elementary kids to celebrate the beginning of summer vacation. Home Depot had kits for kids to build such as model airplanes, and Lotsa Laffs Photo Booths was indoors taking pictures of friends, families and teachers posing with various hats, boas, hand held props and glasses. Each group posing for a picture had the chance to pick one of four 'Hello Summer' border designs to offset their photo fun. The groups posed for four pictures and received a photo strip with their chosen photo border.
Froggy 101 was also doing a live broadcast featuring the fun that was available for kids celebrating the beginning of summer vacation. Froggy's mascot, Froggy, was not camera shy. The mascot was quick to get behind the camera, try on a hat, pick a border and pose for a picture. Kids had an opportunity to also pose with Froggy behind the camera.
Dairy Queen was the big sponsor for the Gray's Woods Elementary School 'Hello Summer' event. During the event, and later in the evening, Dairy Queen generously donated a portion of their proceeds to help the various programs sponsored at the Gray's Woods Elementary School. It was a great day with the added dose of helping a local school!
Thank you Dairy Queen for inviting Lotsa Laffs Photo Booths to be a part of the the DQ Gray's Woods Elementary Hello Summer event. Have an awesome summer!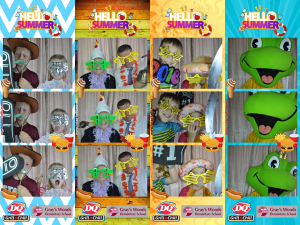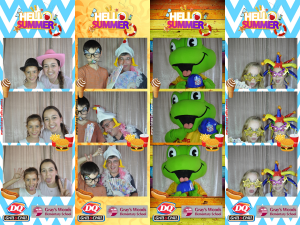 All photos in this blog post by Lotsa Laffs Photo Booths. Copyright © 2018. All rights reserved.