Lotsa Laffs Photo Booths celebrated Todd's 50th birthday on Saturday, November 11th. His wife, Tammy was the awesome person that planned the event at the Veterans of Foreign Wars, Mifflinburg. Todd thought the family was going out to dinner to celebrate this big event, but he didn't expect to see the guests, Lotsa Laffs Photo Booths and a DJ screaming "Happy Birthday Todd!" when he walked in the room.
Everyone had fun posing for a picture with their favorite birthday boy, Todd, and the awesome Lotsa Laffs Photo Booths birthday props. No matter the age, everyone was laffing while trying on the wide selection of hats, boas, masks, props and glasses before standing in front of the camera for a picture. We had a hilarious time seeing the guests do some crazy stunts in front of the camera.
Todd, Tammy and guests were still partying and having Karaoke fun when Lotsa Laffs Photo Booths said goodbye to the birthday boy. At 50, you can still do what any 21 year old can do Todd: dance all night, sing off key at a Karaoke bar, gather around friends, squish tight and mug for the camera and especially eat and drink like a king. Happy 50th Birthday Todd and many happy returns!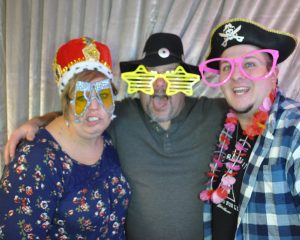 That's Birthday Boy, Todd, In The Middle!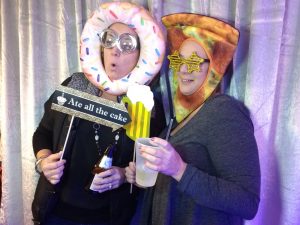 Crazy, Crazy Fun!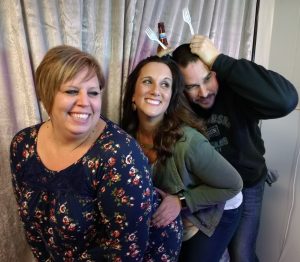 What Is It Exactly That We Are Doing?
All photos in this blog post by Lotsa Laffs Photo Booths. Copyright © 2017. All rights reserved.