Lotsa Laffs Photo Booths had an awesome night recently with the Middle Atlantic College Stores (MACS) organization. The group was in town holding their 48th annual meeting and buying show at the Nittany Lion Inn. The theme for this year's event was football tailgating. Members were dressed in their favorite team's sports jersey while dining on chicken wings, chipped beef, sausage and peppers, and other delicious tailgate foods and dessert.
Lotsa Laffs Photo Booths designed a special 4×6, 4-picture, football skin event border with a football sailing through the goalpost. MACS attendees could be seen striking a pose for the camera. Boas, hats, large and small hand held props, glasses, and frames were repeatedly grabbed and discarded as the attendees struck a pose behind the camera. Each group would quickly don a prop and then pose for the picture. Take a look below at all the smiles MACS attendees wore for the camera!
And We Danced DJ Entertainment was leading some exciting party games along with music to keep the crowd entertained during the tailgate event. It was not surprising to see people running down to grab a straw and suck up a marshmallow before heading back to their places. Many MACS attendees not playing games were busy cheering on their favorite team or MACS person. Before leaving, many MACS attendees were busy marshmallow sculpting some really impressive pieces!
The Middle Atlantic College Stores Association is a nonprofit organization that strives to promote the general improvement of college stores in the Middle Atlantic region. They also further the professional growth of all of the members in their organization. The group is overseen by a board that changes membership each year. Membership in the organization is open to all college and K-12 stores that engage in the selling of books, supplies, or institutional merchandise necessary for students and faculty of an educational institution. Firms that sell to the stores defined previously can also be members of the organization. The Middle Atlantic region includes Delaware, District of Columbia, Maryland, New Jersey, Pennsylvania and West Virginia.
Thank you MACS for tailgating with Lotsa Laffs Photo Booths at your 48th annual meeting!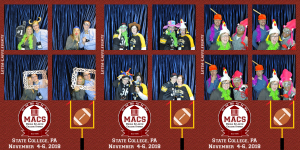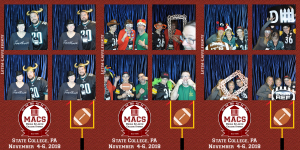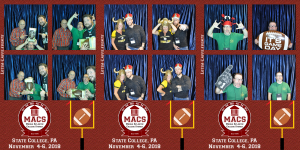 All photos in this blog post by Lotsa Laffs Photo Booths. Copyright © 2018. All rights reserved.