Lotsa Laffs Photo Booths was proud to be part of Michelle Jenkins and Mikel Umberger's wedding celebration at The 903 in Middletown, Pennsylvania. Michelle wore a beautiful lace bridal gown from David's Bridals with a two inch hot pink ribbon at the waist. Mikel sported a navy blue suit with a navy blue striped shirt.
Pastor Lee Hyman was the officiant for the ceremony. The 903's C&J Catering presented a beautiful array of food for the bride, groom and guests. Kyrsten's Sweet Designs prepared a stunning three-layer wedding cake, and an awesome cake depicting the Eagles football team's teal jersey. Shawn Green of FairyTale Reflections Photography was busy snapping shots of the bride, groom and guests throughout the day. About Faces Caricatures busily created wonderful cartoon drawings for all the lucky people who posed for a caricature. And We Danced DJ Entertainment provided the sensational hot pink and blue uplighting, music, dance floor lighting and emceeing for the night. Lotsa Laffs Photo Booths was on hand to make people laugh as they posed for pictures behind their BIG camera.
Take a look at the awesome watercolor flower border Michelle picked for the day. Lotsa Laffs Photo Booths provided the hot pink curtain background which really accented the hot pink color theme that night. The font on the border design matched the font Michelle and Mikel used for their pink and navy blue napkins. Michelle asked Lotsa Laffs Photo Booths to make the font color for their names to be navy blue which is Mikel's favorite color. Guests were not shy while stepping behind the camera with a variety of props. Michelle and Mikel even smiled, kissed and posed for the camera. Everyone behind the camera received a marvelous keepsake to remember the marriage of Mikel and Michelle.
Thank you Michelle and Mikel for allowing Lotsa Laffs Photo Booths capture some spectacular, funny and striking pictures that will leave everyone fondly smiling and reminiscing about your wonderful day!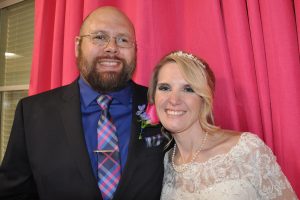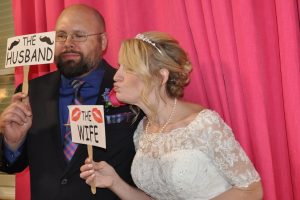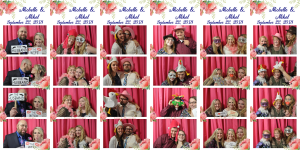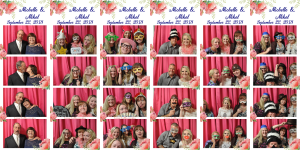 All photos in this blog post by Lotsa Laffs Photo Booths. Copyright © 2018. All rights reserved.