Today let's meet one of Lotsa Laffs Photo Booths' owners, Nancy.
Hello Nancy! What is your role at Lotsa Laffs Photo Booths?
I am an owner/operator of Lotsa Laffs Photo Booths in State College, PA. Lotsa Laffs Photo Booths is a woman-owned business.
When people ask "What do you do?" how do you answer?
I tell them I own and operate a photo booth company and a DJ business.
How did you come up with your name?
We wanted the photo booth name to be fun and exciting. Lotsa Laffs became our name, telling clients that we promote and excel at making an event really enjoyable with pictures.
Where is your favorite place in the world?
Being at an event with a Lotsa Laffs Photo Booth, of course!
What's your favorite family tradition?
Having my family around the table.
Who would you most like to swap places with for a day?
I would swap places with my dog. She has it made!
What did you do before you did this?
I worked as an electrical engineer.
When and how did you get into the wedding industry?
When my husband and I started dating, I found out he had a DJ business with his friend while in high school. My husband saw I loved weddings and extensively knew the course of events. I saw his love for music and suggested getting back into the DJ business.
How did you get into the photo booth business?
I was DJing an event, and the client had a photo booth. The photo booth wasn't a booth per se, but just a photographer's camera on a tripod. I walked from that event away telling my husband I could do much better.
My husband and I worked together to completely design our booth, implement the right software and utilize entertaining props. Today, we have multiple open air photo booths that we have designed and continue to look at ways to make them better.
What is your favorite photo booth prop?
My favorite photo booth prop is the plunger. I always laugh when I see what people do behind the camera with that particular prop.
What advice do you give to users of your photo booth?
I always tell people to smile and have fun behind the camera!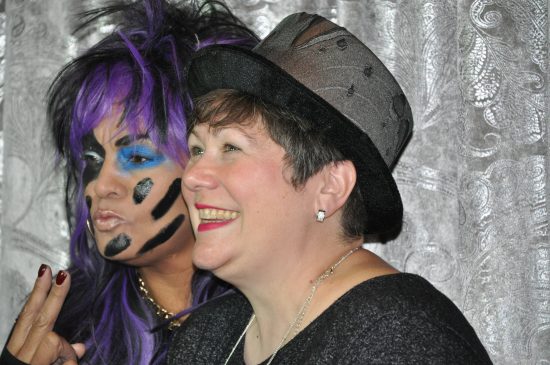 All photos and content in this blog post by Lotsa Laffs Photo Booths. Copyright © 2021. All rights reserved.