Lotsa Laffs Photo Booths had the pleasure of providing photo booth fun for Penn State's Meetings and Events Club and School of Hospitality Management's (SHM) Thon.  The Pineapple Gala was the 7th gala sponsored by both groups.  The theme for the gala was an enchanted forest which could be seen throughout the venue hall and on the Lotsa Laffs Photo Booths border template.  The event was held at the Marriott Foundation Building which is located on the main campus of Penn State.    
The Pineapple Gala featured And We Danced DJ Entertainment's DJs mixing fantastic mashups of music, food, soft beverages, raffle baskets, interactive activities, and Lotsa Lotsa Laffs Photo Booths Big Baby Blue camera.  Chloe Reifer was one of the admirable folks planning the event this year that worked with Lotsa Laffs Photo Booths to make the border template and backdrop fit the theme of the occasion.  A hedge backdrop with a lovely 2×6, 4 picture, border template featuring greenery on a white background with gold was embellished for the gala.  Everyone was thrilled to step behind the Baby Blue camera to take some pictures.  Each person received an actual photo along with a QR code to send their photo to social media.  The lineup for the photo booth allowed people to photo bomb some pictures, but everyone was excited to have a remembrance from the event.
The Pineapple Gala is held late in the fall semester on the Penn State campus, but why is the gala named after a tropical fruit? Wouldn't it be better fitting to hold the event in warmer weather since it is called a Pineapple Gala? Guess what? A pineapple is the symbol of hospitality. It dates to when Christopher Columbus was on his second voyage discovering the Caribbean. The travelers wanted to share this fruit with their families back in Europe. The Spanish Royal Family loved the pineapple fruit. Since the pineapple could only be grown in warm climates, people began experimenting with the correct conditions in a greenhouse to grow the product. It took over 200 years before the correct specifications were met to grow a pineapple in greenhouse conditions. The sparsity of the pineapple means that hosted events featuring a pineapple were considered an honor. This is why the pineapple became known as the symbol of hospitality and gracious hosting.
Thank you, Chloe, Penn State's Meetings and Events Club, and Penn State's School of Hospitality Management's (SHM) thon for allowing Lotsa Laffs Photo Booths to be part of your amazing 7th annual Pineapple Gala!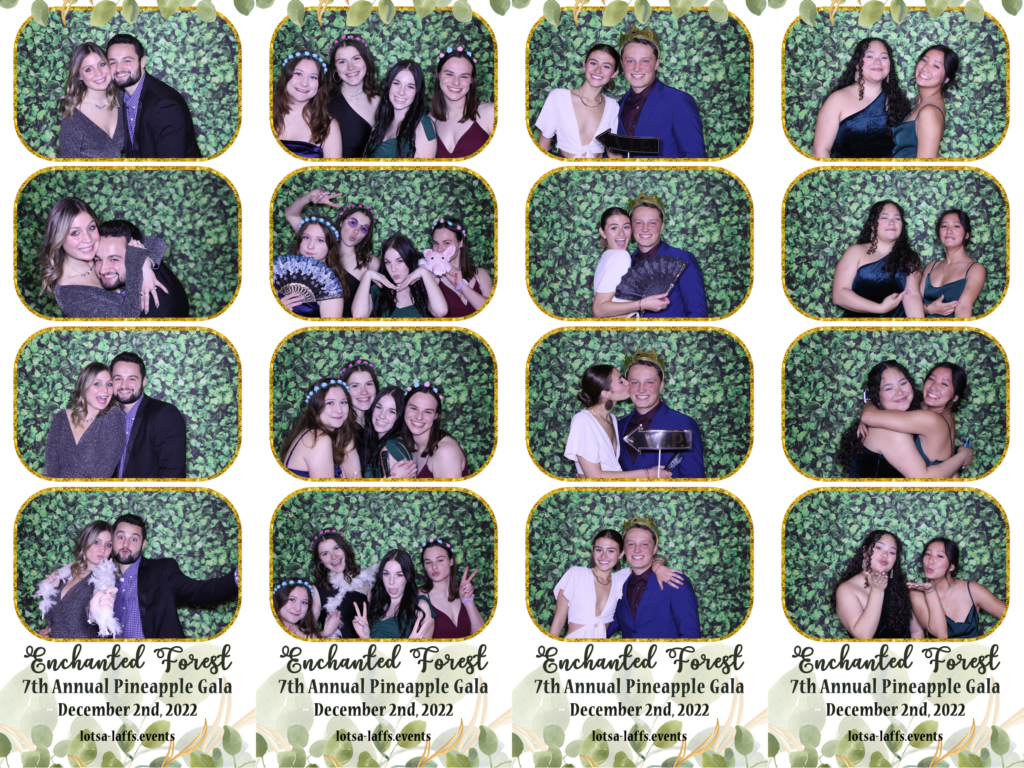 All photos and content in this blog post by Lotsa Laffs Photo Booths. Copyright © 2023. All rights reserved.