Lotsa Laffs Photo Booths had the pleasure of providing photo booth fun for the Penn State Altoona Student Nurses Association of PA (SNAP) at the Arc of Blair County.  The event was the first formal event sponsored by the Penn State Altoona SNAP.  It featured music, sound, and lighting by And We Danced DJ Entertainment, and Lotsa Laffs Photo Booths' Baby Blue camera for exciting photos. 
Lotsa Laffs Photo Booths created a custom 2×6, 4 picture, maroon photo booth template featuring the ticketed event with a rose gold glitter backdrop from the Lotsa Laffs Photo Booths backdrop library. Fun
Hats, glasses, handheld props, and boas were ready for use while taking a photo in the Lotsa Laffs Photo Booths' Baby Blue camera. Even though the line was long for pictures, everyone was giggling, helping people find some fantastic props, and sometimes photobombing their friend's photos. Guests did not only take home one photo strip, but a few along with digital photos of the event. Large and small groups stepped behind the camera to commemorate the first formal sponsored by the Penn State Altoona SNAP. It was wonderful to see all the smiles on everyone's face as they walked away holding and looking at their camera featuring their awesome pictures.
SNAP is a Penn State organization that offers nursing students numerous ways of being involved in the local, state, and national level. The organization offers their students professional development, community service, and events to foster camaraderie. The people in SNAP also are involved with THON through their partner Club Kinesiology, fundraising, and attendance with THON families at various events. SNAP offers first and second year students a mentee/mentorship with their junior and senior members. The program gives new students a chance to meet other students, get advice, and ask questions from uperclassmen.
Thank you, Penn State Altoona SNAP for inviting Lotsa Laffs Photo Booths to your formal event!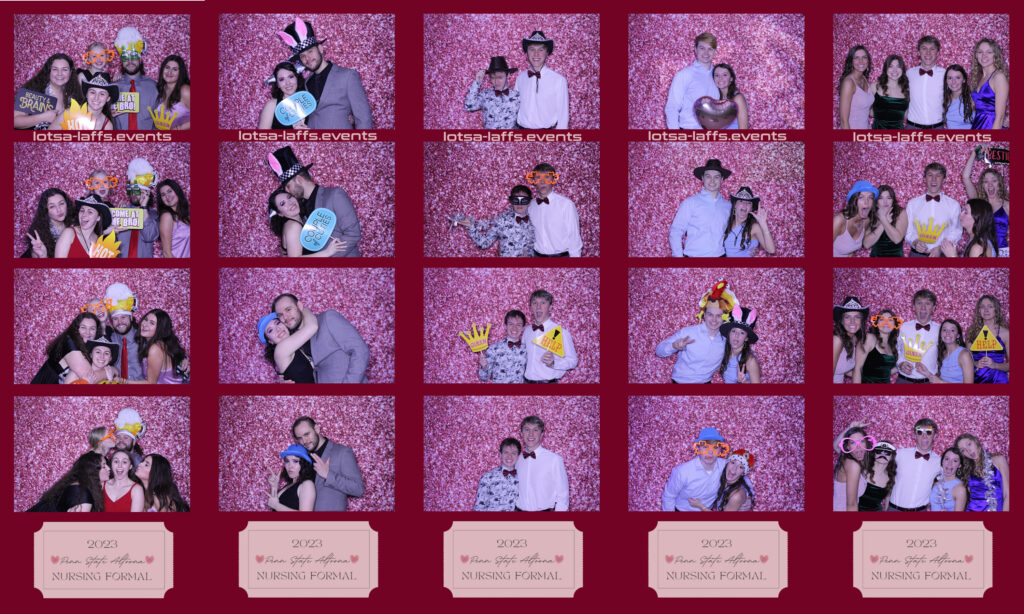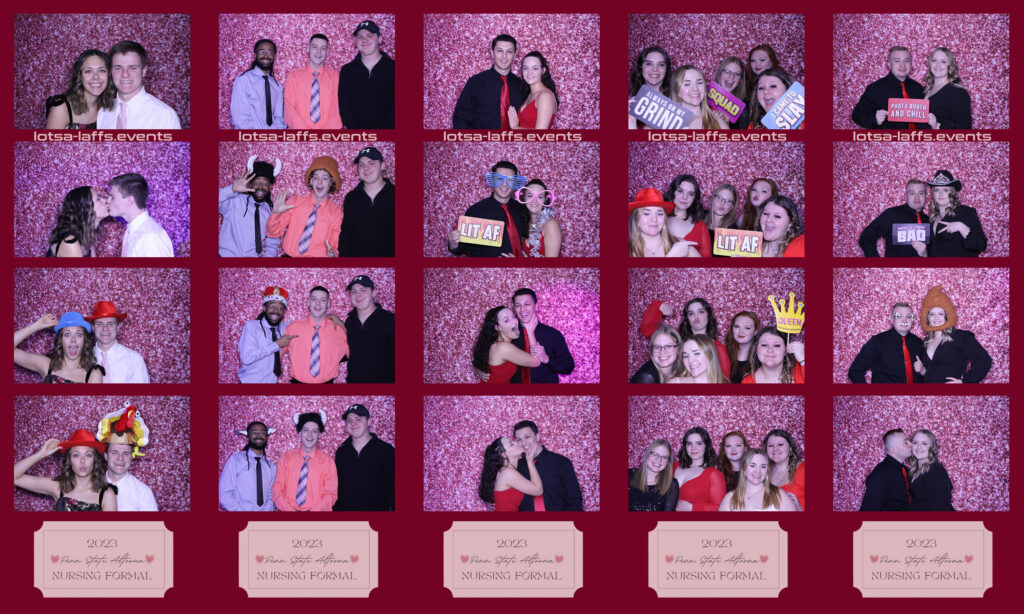 All photos and content in this blog post by Lotsa Laffs Photo Booths. Copyright © 2023. All rights reserved.