Lotsa Laffs Photo Booths had the pleasure of providing photo booth fun for Penn State University's Kappa Delta sorority as they celebrated their semi-formal at GodSpeed Events & Lodging. Everyone was excited and ready to party. Kappa Delta enticed guests with a buffet of food to satisfy everyone's appetite. The sorority sisters and their guests were having an utterly fantastic experience with Lotsa Laffs!
Kappa Delta and their guests were going wild behind Lotsa Laffs Photo Booths' Big Red camera. The women's sorority chose a wonderful 2×6, 4-picture, pink photo booth template for the semi-formal that featured their sorority themed logo. Groups ranged from two to fifteen people that were eager to take some amusing pictures as well as the tried-and-true photo images behind the unique Big Red camera. Lotsa Laffs had a plethora of glasses, hats, handheld props, and boas to choose from while posing for the Big Red camera. Guests had ten seconds between shots to get ready with props before the Big Red camera flashed. The Big Red camera line was never idle. Guests were photobombing couples and groups throughout the event. The photobombed pictures were comical and dramatic. Lotsa Laffs made big time history when fifteen people posed behind the Big Red camera with props and smiles.
Lotsa Laffs Photo Booths was happy to provide all the members of Kappa Delta and their guests fun-filled moments with the Big Red camera. Some guests were silly behind the camera, and many showed their sweet natures and awesome smiles. Lotsa Laffs enjoyed working with Penn State's Kappa Delta sorority and look forward to providing photo booth thrills at future Kappa Delta events. An awesome time was had by all!
Thank you, Penn State University's Kappa Delta sorority for allowing Lotsa Laffs Photo Booths to be part of your amazing spring 2022 semi-formal!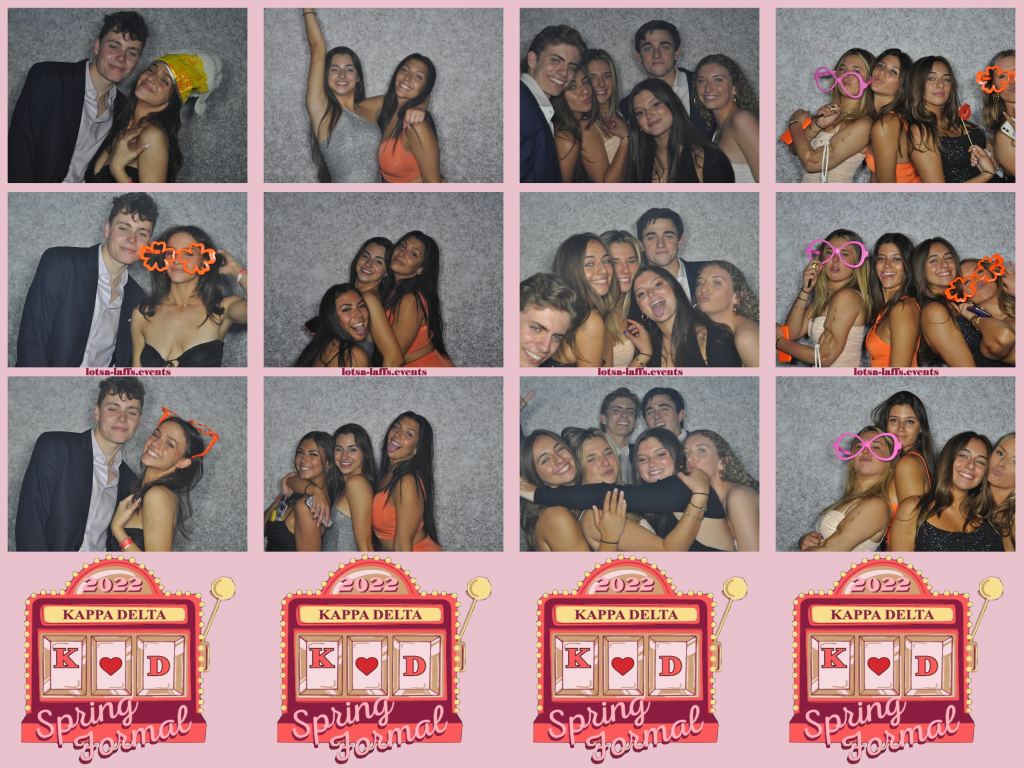 All photos and content in this blog post by Lotsa Laffs Photo Booths. Copyright © 2022. All rights reserved.