Lotsa Laffs Photo Booths had an awesome day with the many people who participated in the State College Dairy Queen's Miracle Treat Day festivities. For every Blizzard Treat sold on Thursday, August 2nd, the State College DQ donated proceeds to the local Children's Miracle Hospital, Geisinger Janet Weis Children's Hospital, located in Danville, Pennsylvania. This was the third year that Lotsa Laffs Photo Booths donated their photo booth for the BIG event at DQ Grill and Chill State College.
The Children's Miracle Network Hospitals organization was founded in 1983 by the Osmond Family, John Schneider, Mike Shannon and Joe Lake. The non-profit organization raises funds for children's health issues. DQ has been a part of the Children's Miracle Network Hospital organization since 1984.
State College's DQ also sold Miracle Balloons leading up to Miracle Treat Day to raise money for Geisinger Janet Weis Children's Hospital. Two balloons were sold with valuable treat offers for purchasers. Currently, over $135 million has been raised from DQ donations for funding critical children's treatments and healthcare, pediatric medical equipment, and charitable care.
Young and old alike were eating dairy treats and having fun behind Lotsa Laffs Photo Booths BIG camera. Froggy 101, QWIK ROCK 105.9, and Majic 99 were also on hand with their well-known on-air radio personalities. Boss Frog and the Froggy mascot began the fun and excitement of DQ's Miracle Treat Day. The Froggy mascot is always a big ham behind Lotsa Laffs Photo Booths BIG camera! Froggy loves grabbing some props and posing for pictures. Drew Shannon and the QWIK ROCK crew had to weather the pouring rain, but their music and cheerful dispositions kept people smiling and enjoying the day. Majic 99's Jerry Valeri kept people hopping to old and new hits.
Lotsa Laffs Photo Booths had a marvelous time with the people that stopped by to have some fun behind the camera. No one was camera shy. Everyone that posed for a picture had the opportunity to pick one of two photo borders. The borders were dripping chocolate or vanilla ice cream with rainbow jimmies. Of course, chocolate was the favorite border of the day. Once the border was chosen, the fun began!
Lotsa Laffs Photo Booths can't wait until next year for State College's DQ Chill and Grill Miracle Treat Day!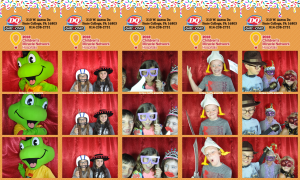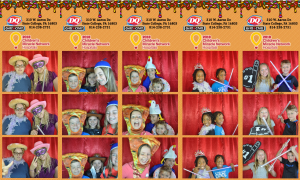 All photos in this blog post by Lotsa Laffs Photo Booths. Copyright © 2018. All rights reserved.