This past July, Lotsa Laffs Photo Booths designed two ice cream cone borders with dripping chocolate and vanilla ice cream for the Children's Miracle Network Miracle Treat Day at the State College Dairy Queen. All ages stepped behind the BIG camera and posed for a picture, but the overall favorite ice cream border for the day was chocolate. It was pretty close with 52% picking chocolate versus 48% choosing vanilla. This was Lotsa Laffs Photo Booths second year helping out at Miracle Treat Day.
Lotsa Laffs Photo Booths had tons of fun with the people stopping by for a blizzard as well as the Dairy Queen employees. We also got some great photos of Froggy, Froggy 101's mascot, the Dairy Queen Dilly Bar mascot, and various radio personalities. Check out the nifty photo booth strips that show all of the great fun! Looking forward to Dairy Queen's Miracle Treat Day in 2018! #LotsaLaffsPhotoBooths
.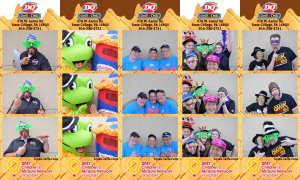 All photos in this blog post by Lotsa Laffs Photo Booths. Copyright © 2017. All rights reserved.