Lotsa Laffs Photo Booths was part of the week long State College Dairy Queen's 10th Anniversary celebration leading up to their official anniversary on February 6th. The dining area was aligned with pictures from the past 10 years. Each day was set aside with an awesome treat for the day, reminiscing or special day to have fun with the kids or to treat your significant other with a DQ meal and ice cream treat. It was great to see the many faces that manned the counters and birthday parties in the last 10 years.
Lotsa Laffs was on hand on February 3rd as DQ held a DQ Children's Day. Games were held inside along with a magician performing magic tricks for patrons. Kids had a chance to win some awesome ice cream treats playing hockey and fishing for ducks. Parents alongside their kids mugged for some neat pictures with Lotsa Laff's. Lotsa Laffs made some gorgeous custom photo strip borders to help Dairy Queen celebrate the week's festivities.
The State College Dairy Queen's official anniversary was on February 6th. Many people stopped by along with QWIK Rock and Lotsa Laffs to wish the folks a Happy 10th Anniversary. Everyone had a piece of ice cream cake to celebrate their official 10th anniversary. The ice cream was a treat on the cold snowy day, but the warmth inside made up for the cold winter blues outside. Lotsa Laffs had the opportunity to get Ben Lerner and Don Boller to smile for the camera. Ben walked away saying that this photo needs to be posted for all to see. We even had QUIK Rock's Diana Stapleford (general manager), Drew Shannon (radio personality), Michael Stapleford (Owner/President) and two interns mugging behind the camera.
Congratulations to Dairy Queen of State College on this big milestone! Lotsa Laffs Photo Booths thanks you for allowing us to be part of your celebration days. It was great to see our strips appearing on your walls commemorating the past ten years. We look forward to providing our photo booth at DQ Miracle Treat Day in July!!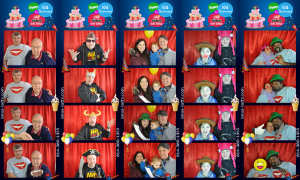 Happy 10th Anniversary State College PA Dairy Queen!!!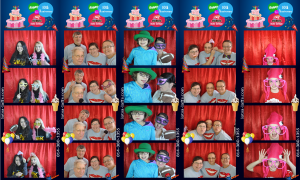 What A Party It Was!!!
All photos in this blog post by Lotsa Laffs Photo Booths. Copyright © 2018. All rights reserved.